Find this product in section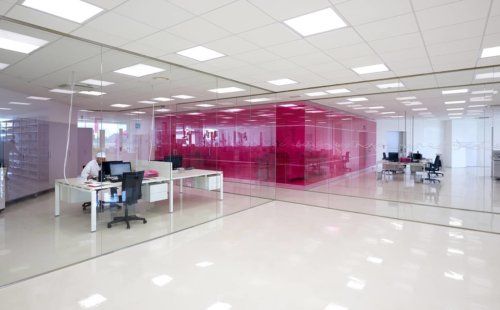 In Crema the new premises of Omnicos have been recently inaugurated, a reference company for innovation and excellence in the field of cosmetics, where chemists and biologists mix as ancient masters did, colours to obtain nuances of lipsticks, eyeliner pencils, eye shadows…
The new total-white offices are by Manerba – thanks to the project of studio Beppe Riboli – because white is the colour that plays and dances with the other colours; and for the intrinsically coloured DNA of Omnicos – that works with lampblack, Prussian blue, Scweinfurt green… – it was opted for the purity and the brightness of white. Clean offices, furbished with the advanced ergonomics of Click Operative desks, with trestle legs and floating tops, with suspended 2-drawer unit, to give lightness and harmony.
Reflection tables give to the meeting rooms an elegantly minimal character: oval and round tables, in cloud white colours as the profiles of the monolithic walls, perfectly match the external structure.
Manerba approach to the office has aesthetically and functionally accentuated the philosophy of the entrepreneur of Omnicos, where the exchange of creativity is enrichment for the mind and the focus is always the human being.
Supply location
Via Paullese km 30,7 – 26010 Bagnolo Cremasco (CR), Italy
Completion of the work
July 2017
Products supplied
Executive furniture, operative furniture, cupboards and break areas
Collections
Revo, Click Operative, K-box
Collection used